Who else wants to bring a little sunshine (i.e. flowers) into their homes right NOW?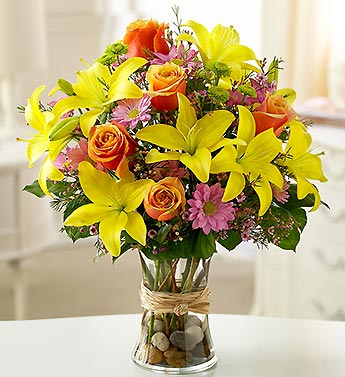 I do!! I love fresh flowers but when I  looked into buying them online, I found you can not really get something decent unless you want to spend close to $100.00 (includes shipping).  And then they die and this is what I end up with:
Another empty vase.
I do not have any extra cash right now (paying off Christmas credit cards), but I do remember reading something about forcing branches indoors.  That's what I can do with my empty vases!  I just want something pretty and alive!
You can have spring blossoms early if you force branches into bloom inside your house. By forcing the branches into blooming, you are actually tricking them into acting as if it were already spring.
Forcing Basics:
Step 1: Select pencil-thick branch sections 12 x 24 inches long that boast numerous plump buds. Using a sharp knife or hand pruner, cut the branch, making an angled cut at the base. Immediately place each branch in water.
Step 2: Bring the branches inside and strip buds, twigs  and leaves from lower sections that will eventually be under water when you place them in your vase. Use a utility knife to pare away an inch or two of bark from the base. Next smash the woody bases with a hammer. These openings will enhance water absorption and help your arrangement last even longer.
Step 3: Place branches in a water-filled container set in a bathtub and give them a long, tepid shower.  Wrap branches in wet newspaper, then place them in clean, lukewarm water. Move to a cool, dark spot; mist branches and change water daily. Unwrap after two or three days.
Step 4: Once the flower buds have started to pop, arrange branches in a tall, water-filled vase or pitcher, and bring them into the light. Set the arrangement in a bright-but-cool spot out of direct sunlight. The cooler the spot, the longer the branches will bloom.
The closer to a plant's natural bloom time you harvest its branches, the quicker the flowers will sprout indoors.  Forcing branches in January takes longer to bloom (usually several weeks) than February or March which may take only a week or two.  Prune branches on a day that's above freezing to ease the transition between outside and inside temperatures.
What if you do not have any flowering branches in your yard (or neighbor's yard hehe?)   I called my local florist and ask if it was possible to purchase branches through her shop.  She said that yes, she can order them for me. Each branch is between 6-7 feet long was $4.00.  So I did order a couple to experiment with.  I will let you know how that works out.
Another option is to purchase faux botanicals.  Just be sure they are very real looking!!  Pier 1 is always a good place to check and prices are reasonable.  Pottery Barn has beautiful flowering branches priced from $19.00 for a 49″ cherry blossom, up to $64.00 for each 49″ stem of white cherry blossoms shown below:
Look how pretty these arrangements are and so easy to arrange:
Pottery Barn
Pottery Barn
Love this one below!  Great inspiration.
Southern Living
Martha Stewart
I love finding easy, inexpensive ways to decorate.  Especially with flowers as you know!  Don't you think they make a room happy?
Comments?  Any other decorating ideas/pictures using  forced branches?
If you need help making your home updated and fresh, contact me today!
Other posts you might enjoy:
Christmas Table Centerpiece 101
Share on Facebook