Benjamin Moore recently released the name of their top yellow paint colors*:
straw (2154-50)
With its slightly orange undertone, straw brings a nice warm glow into a space, enveloping the room and making it instantly cozy.
hay stack (317)
A clean, pure yellow that reminds us of a sun-drenched day at the beach. Pair it with a soft green for a sense of calmness or a deep blue (such as yin yang 824) for a striking effect. 
hawthorne yellow (HC-4)
This historical color is reflective of traditional architecture, but also works beautifully in modern homes. The slight gray undertone makes it usable in any room.
vellum (207)
A vision of captured sunlight, vellum is a soft yellow with an illuminating quality that's never overwhelming and always warm and welcoming. I just used this color vellum in an entryway and up the stairs in a large foyer (will post pictures soon.) 
honeymoon (AF-345)
A golden yellow with brownish undertones, honeymoon can give any room a snug, cozy feeling. Depending on the lighting, it can be used as a rich, deep neutral beige.
About a month ago, I posted the blog ' Choosing the Right Yellow'  that discussed how difficult choosing the right yellow can be. The yellows that I chose were all yellows that I have worked with in the past and knew they passed the one main criteria test: no screaming yellow on the walls!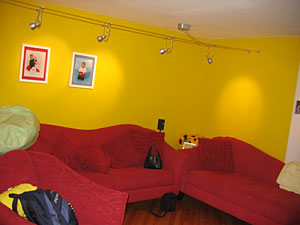 File Photo
These are my best yellows:
Remember that these color samples on the computer do not look like the real color.  Honeymoon is a soft yellow with a little brown- not that beige sample above.  Look how different my honeymoon looks to BM honeymoon.  Same color.  That is why I always push you to sample paint at home!
Kelly Bernier Designs
This room above was painted honeymoon.  See how the sunlight changes the color in the room?  Honeymoon is a yellow that will work in both light and dark spaces.
  File Photo
This room above is painted Hawthorne yellow.  I do think it is pretty, but to me it is screaming yellow on the walls.  I have found it is to bright for most clients who are usually looking for that softer yellow look.  Same for the haystack yellow below:
Pretty but also pretty bright!  I might want to test this for a baby's room. Or maybe not,  because of over stimulating the baby!
So, are you thinking BM took my favorites, then added a couple others so we would not think they were copying?
   Just be sure whatever yellow you choose that you bring it home and sample.  Only then will you know how the color will work in your lighting for your entry room, kitchen, hallway or living room.
If you need help choosing your perfect yellow, contact me today!
Comments?
Share on Facebook