One of my favorite gifts I received for Christmas was a digital photography book. In the last couple years taking better photos has become a passion for me. I think both living in gorgeous NH and decorating homes was what encouraged me to take better pictures of my subjects.
google
I have tried in the past to learn about the f-stops, pixels and resolution but is just seems so confusing! The book I received "Digital Photography" by Jason R. Rich explains different techniques and ideas so well that even I am learning! It is a good beginner to intermediate photographer book that helps break down the technical aspects of photography.
I wanted to share a trick that has already helped me take better shots:
The 'Rule of Thirds':
Amateur photographers commonly place the subject of the photo dead center in the frame and do not take into account the foreground or background. In most cases, placing your subject in the center of the frame is boring and predictable. Professionals know that placing your main subject off center is more aesthetically pleasing. This is where the Rule of Thirds comes into play. When looking through your camera viewfinder, divide the picture into vertical and horizontal thirds: Position your subject or main focal point where two of the horizontal and vertical lines intersect or along one of the lines:
Most digital cameras have an auto focus feature that requires pressing the shutter button half way. As you are taking a picture, center the subject in the center of the frame. Press the button down half way then reposition the subject in the frame using the Rule of Thirds: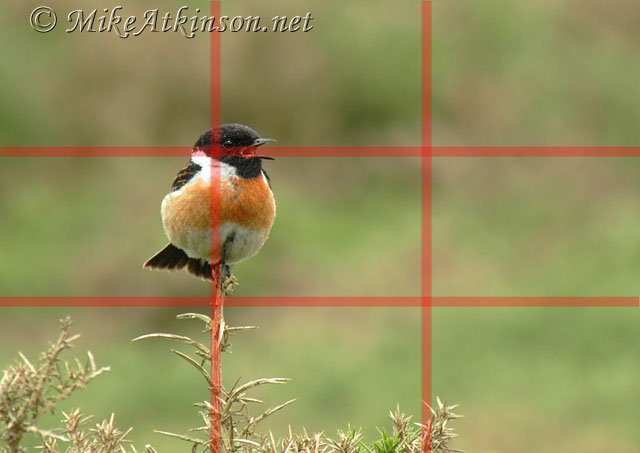 So I started practicing:
Cute picture but now look at the snowman to the side:
I think the photo looks more interesting, don't you?
Here are some professional photos using the Rule of Thirds:
google
google
Try to play with the Rule of Thirds when composing your shots. See if you think your photos are more exciting and tell a story. Professionals know that the Rule of Thirds is the best way to produce balanced and highly interesting subjects!
Comments? Do you use the Rule of Thirds when taking photos? Next time- When and How to Use Your Camera's Built-in Flash.
Similar Topics You Might Enjoy:
Bring in Spring By Forcing Branches Now
Painting With Annie Sloan Chalk Paint
Review of the Ben Moore Color Capture App
Share on Facebook