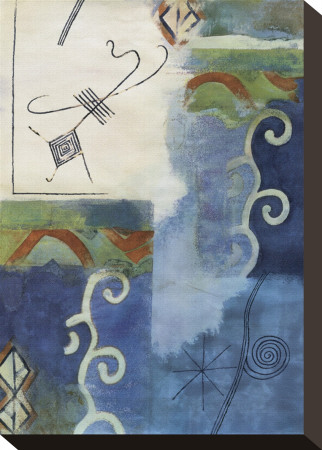 art.com
It seems I have been looking forever for a piece of artwork to finish off a guest room I have been working on:
I knew I wanted a print with navy blue and a touch of raspberry in it. I looked in stores and online but had no luck. So my next idea was to buy fabric with the navy and raspberry in the print and then staple the fabric onto a canvas frame:
apartment therapy
This was an easy project that I have done before. But again, I could not find any fabric that I was crazy about. Next step: another project I thought would be fairly easy to do was to paint the canvas boards with my colors of navy and raspberry. I thought a free- hand, abstract type of picture would be easy to do like the picture below:
How hard can it be I thought? So I pulled out all of my acrylic paints and tools and got to work:
I love, love to paint anything so when I first started, I was having a blast. A little brushstroke here, a sponge twist over there:
Until I finally stepped back and looked at my finished art work:
hahahaha Looks like someone got carried away! Picasso I am not! Time for me to move onto the next idea! I decided to take out the big guns! Ben Moore Midnight Blue 1638 and Hot Lips 2077-30 to the rescue(both were left over colors from other projects)! I decided this time to not be so free with my free hand technique, but instead go for a more measured and controlled look:
Looking much better already. The blue paint covered easily in two coats but the raspberry took me three coats to cover well:
And the finished artwork:
I like them! Custom artwork that is exactly in the colors I was looking for. Now if I can create these great prints, imagine what you can do also!
Comments? Have you tried painting abstract art before? Not so easy is it?
If you need creative ideas for your space, contact me today!
Related topics you may enjoy:
Decorating A Small Office Space
Share on Facebook