Continuing with quick and affordable ideas to help bring your dining room back into real time.
Number Five:
Crown Molding: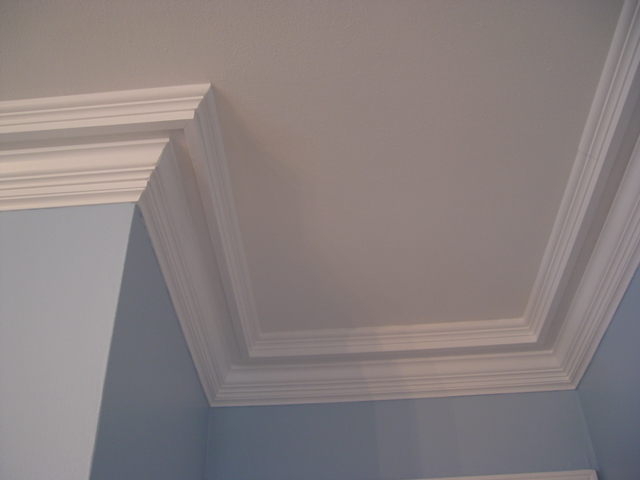 Crown molding today can be done quickly and inexpensively with all the many available resources that we have today.  Just take a look at your local lumber yard for example, where there are so many different styles and prices in molding.  Here at HGTV, you can learn how to install molding, how to make faux molding, how to use molding for shelves and mirrors and many other helpful ideas.  It really dresses up a room, don't you agree?  If you have been considering adding crown molding to your home, this is a perfect room in which to start.
Amanda Nisbet
Number Four:
Your chairs and seating.  As you know, chairs do not have to match with the table anymore.  If you can not afford brand new chairs, why don't you give your old, used chairs a chance? Paint them, change the old fabric in the seats, or you can use a slip cover for a fresh, new look.  
RMSer ebonie.
Crate&Barrel has an extensive collection of slipcovers at great prices. You can always find dining chairs at yard sales that can be brought back to life. Think of how you will smile every time you walk in you knowing you did them yourself.  I love to see mix and matching chairs, but I always suggest to have pairs in the mix (For example, 4 chairs= 2 sets, 6 chairs= 2-3 pairs).
House Beautiful
Number Three:
That Old Fashioned Hutch.
I am not talking about antique, I am talking just old and outdated and top heavy.  I know, I know… you need it for storage.  But I am only talking about the top.  Did you know that most all of the hutch tops can be taken off?  It will be like a new piece of furniture.  A flat top where you can make a beautiful tablescape!  I would look into this option if I were you to help really lighten the room up.
Number Two:
Painting the walls! Paint is the quickest, least expensive way to completely transform a room.  How long has it been you have painted?  If the walls are white or beige, why not try bringing in some color?
Gary McBournie
( I know I use this picture above a lot, I just love it!)  Or, if your room is painted a darker color, maybe a soft neutral would be a beautiful transformation.
Bunny Williams
Number one:
Your dining room table centerpiece. Nothing will make the room more chic and stylish than a beautiful center arrangement.
Barry Dixon
I am not talking about laying out the whole table for everyday (I think the full table settings are beautiful for guests, but for everyday?  More to dust. Forget that!) . I am suggesting a beautiful centerpiece that does not have to be complicated, just a thoughtful, simple arrangement that makes you smile when you look at.
Pottery Barn
This is a look I love below: fresh flowers, stack of small plates, colorful napkins.
Allison Caccoma
Look how fun this arrangement is below with flowering branches:
  Chris Barrett
Just a beautiful bowl of fruit looks pretty.
Myra Hoefer Design
Betsy Burnham
Use your imagination with cool pieces you already own.  Try with one piece or three or five.  Another way to bring back your dining room to a fresh, new space you love.
Comments?  Other ideas to share?
If you need help bringing back you dining room so that you can enjoy again, contact me today!
Share on Facebook